IMPORTANT INFORMATION: the application deadline is extended to May 20!
Date: Tuesday, May 31st, 2022
Venue: Institute of Business Economics and Industrial Sociology, Kopernikusgasse 24/II, 8010 Graz (AUT), Seminar Room NT02100
The "Doc School – Day: PhDs meet Professors" is a one-day event taking place at the Institute of Business Economics and Industrial Sociology in Graz. The event provides a platform for PhD students to interact with two internationally renowned scientists. The main objective of the Doc School – Day is to disseminate knowledge and share best practices in the field of research and paper publication. PhD students are therefore encouraged to participate in the event.
---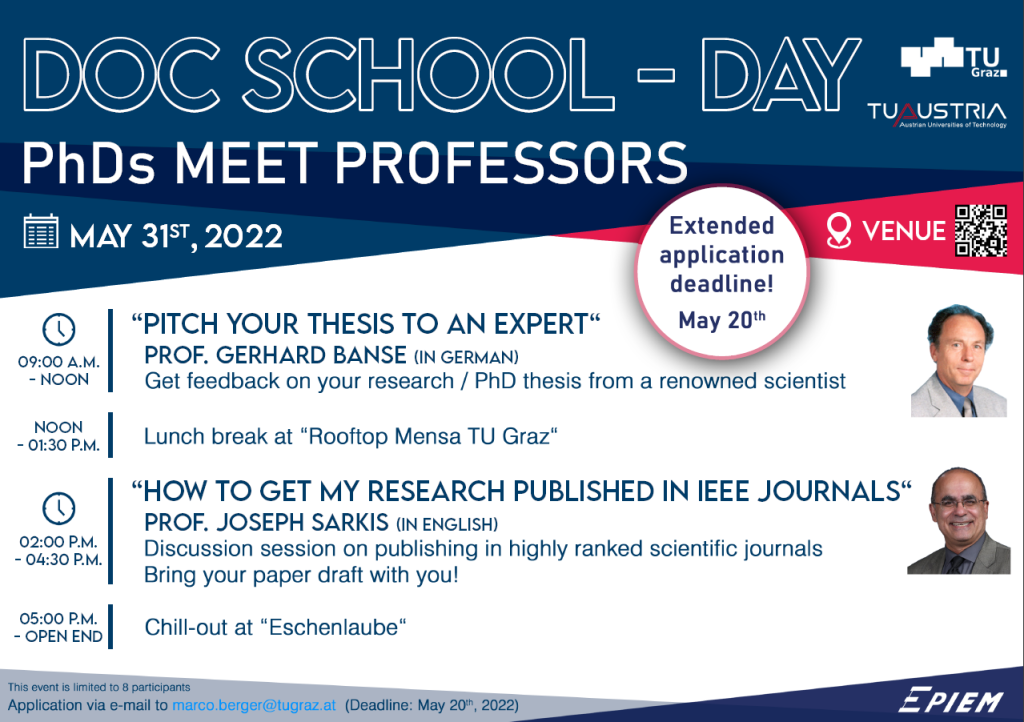 ---
Objectives:
First, the participants are invited to present their PhD thesis in a 5-minute pitch. Afterwards, the students will receive qualitative feedback from Prof. Gerhard Banse on the concept of their thesis.
This provides students the opportunity to
challenge their research concept with an expert at an early stage of development
Discuss the topic, structure and/or applied research methods of their PhD thesis and strategize on how to refine the concept to improve the research quality
Prof. Gerhard Banse is a renowned German scientist, editor and author. He authored more than 400 book and journal publications and his research focuses on the philosophy of technology, general technology science, and technology assessment. More information about Prof. Banse can be found here: click
Second, the participants are invited to join a session with Prof. Joseph Sarkis, who will present about the possibilities on publishing in IEEE journals. Afterwards, the participants' paper proposals or concepts that are collected in advance will be discussed with Prof. Sarkis to work out how the concept can be refined and improved to get submitted to a highly ranked scientific journal.
Therefore, the students receive the possibility to
Listen to what an experienced Editor-in-Chief thinks is important when submitting a paper
Discuss their specific paper idea, proposal, or concept with an Editor-in-Chief and work out a strategy on how to get the paper published in a highly ranked journal
Prof. Joseph Sarkis is a renowned North American scientist, publisher, and editor of several highly ranked journals, among them IEEE's Engineering Management Review. He co-authored more than 500 scientific publications in the fields of environmental sustainability, operations and supply chain management. More information about Prof. Sarkis can be found here: click
---
Application for the event "Doc School – Day: PhDs meet Professors":
Application is open from now until May 20th, 2022. Please note that you must actively participate in both stages!
Documents: please download the Word template and fill in the abstract of your PhD thesis (max. 300 words; in German). Email the completed document and a draft of your paper that you would like to discuss with Prof. Sarkis and publish in a highly ranked journal to marco.berger@tugraz.at
The event is limited to 8 participants.
The "first registration – first serve" principle will be applied, as long as the participants fit into the target group.
No fees are charged.
---
Further information:
Good knowledge of German is required; The session with Prof. Banse will be held in German
Please bring your own laptop with you.
Event Location: click
Covid-19: Please keep yourself informed in this regard and observe the Covid-19 regulations applicable in each case.
---
Detailed Program:
08:45 a.m. to 09:00 a.m. Arrival and time for coffee
09:00 a.m. to 09:15 a.m Opening speech and introduction of Prof. Gerhard Banse
09:15 a.m. to 10:15 a.m. Four pitches including feedback (15 minutes each)
10:15 a.m. to 10:30 a.m. Coffee break 15 min.
10:30 a.m. to 11:30 a.m. Four pitches including feedback (15 minutes each)
11:30 a.m. to 11:45 a.m. Wrap up and workshop closing incl. group photo with Prof. Banse
11:45 a.m. to noon Time to get prepared for the lunch breack
Noon to 01:30 p.m. Lunch break @ "Rooftop Mensa TU Graz"
01:30 p.m. to 02:00 p.m. Time to get prepared for the workshop with Prof. Sarkis
02:00 p.m. to 02:10 p.m. Opening speech and introduction of Prof. Joseph Sarkis
02:10 p.m. to 02:30 p.m. Presentation about publishing in IEEE Journals
02:30 p.m. to 04:30 p.m. Discussion session on publishing your paper in IEEE journals
04:30 p.m. to 04:40 p.m. Wrap up and workshop closing incl. group photo with Prof. Sarkis
04:40 p.m. to 05:00 p.m. Time to get prepared for the chill-out
05:00 p.m. – open end chill out @ "Eschenlaube"
---
This event is organized and hosted by:
Prof. Bernd Markus Zunk, Graz University of Technology (AUT)
Sigrid Weller, Graz University of Technology (AUT)
Marco Berger, Graz University of Technology (AUT)
Philipp Miklautsch, Montanuniversität Leoben (AUT)